| | |
| --- | --- |
| Posted by mhedwig on January 31, 2021 at 2:20 PM | |
My review, below, of A BETTER MAN, was regretfully not positive. But Louise Penny returns in the fine form that has made me a loyal reader with her latest, ALL THE DEVILS ARE HERE, #16 in her series featuring the Quebecois detective Armand Gamache.  
At the end of A BETTER MAN, Jean-Guy Beauvoir, Gamache's son-in-law, former second-in-command in the Surete de Quebec, and close friend, has accepted a position in Paris, leaving behind police work for an executive pos...
Read Full Post »
| | |
| --- | --- |
| Posted by mhedwig on June 18, 2020 at 2:45 PM | |
For lovers of stories about celebratory getaways gone fatally wrong, here are two books that may even make the reader see the upside of staying safe at home as we wait out the COVID 19 pandemic. 
The Return by Rachel Harrison is great fun, a praiseworthy debut in the grossout horror genre. Suspenseful and atmospheric. Four twenty-something friends whose post-college lives have taken them far apart from one another reunite in a quirky Catskill Mountain spa hotel. ...
Read Full Post »
| | |
| --- | --- |
| Posted by mhedwig on January 8, 2020 at 2:25 PM | |
Like her brilliant The Little Red Chairs, Edna O'Brien's Girl tells the searing story of a young woman victimized by the political violence of men. In this case the setting is Nigeria, where Maryam is a schoolgirl captured and held prisoner for years by Boko Haram..
She becomes the "bush wife" of one of her captors, who is unexpectedly gentle; he dies, she bears his child, a little girl whom she calls only Babby and struggles to love wi...
Read Full Post »
| | |
| --- | --- |
| Posted by mhedwig on September 8, 2019 at 5:20 PM | |
A Better Man sadly continues, in my humble opinion, the decline in quality of Louise Penny's Chief Inspector Gamache/Three Pines series. I listened to the first eleven or so; maybe the problem with sentence fragments that bugged me so much in this book existed in the earlier books but it didn't come across in the Audible narration:   "He saw her face as she fell, backward. Off the bridge. Arms pinwheeling. And then the splash."
"And i...
Read Full Post »
| | |
| --- | --- |
| Posted by mhedwig on August 12, 2019 at 2:30 PM | |
Thirty year old Eleanor Oliphant, living alone and working as a finance clerk in Glasgow, is at first an infuriating prig, judgmental, superior, utterly oblivious to her off-putting effect on other people. A good-hearted IT guy from her office persists in trying to draw her out, and because of his efforts she begins to develop interpersonal relationships for the first time in her life. But she remains lonely and deeply hopeless. Weekly phone calls from her emotionally abusive mother continual...
Read Full Post »
| | |
| --- | --- |
| Posted by mhedwig on August 12, 2019 at 2:05 PM | |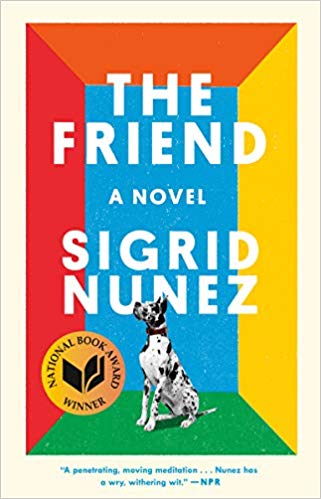 This review is reprinted from my animal advocacy blog, aheartforshelterdogs.com
Sigrid Nunez's novel The Friend won the National Book Award for fiction in 2018, despite breaking nearly every rule that fiction writers today are advised ...
Read Full Post »
| | |
| --- | --- |
| Posted by mhedwig on November 15, 2017 at 2:30 PM | |
3 stars for apparent depth of research and vivid writing, but I bailed on this soon after beginning Part II. The brutality, the lack of heart sickened me, especially in the light of recent evidence that this culture wants to blow ours off the face of the earth.
| | |
| --- | --- |
| Posted by mhedwig on November 15, 2017 at 2:25 PM | |
I came away from Jennifer Egan's Manhattan Beach respecting the author's diligent research into women divers during WW II and what it's like to survive at sea after a shipwreck, and I always find much to admire in Egan's writing. But the book's plot lines--the stories of the 3 major characters and how they intertwine over decades --did not cohere for me into a satisfying whole.
None of the characters came fully to life. They all seemed like vehicles to show the variou...
Read Full Post »
| | |
| --- | --- |
| Posted by mhedwig on August 10, 2017 at 9:25 AM | |
From Wikipedia: "Used loosely, 'bardo' is the state of existence intermediate between two lives on earth. According to Tibetan tradition, after death and before one's next birth, when one's consciousness is not connected with a physical body, one experiences a variety of phenomena. These usually follow a particular sequence of degeneration from, just after death, the clearest experiences of reality of which one is spiritually capable, and then proceeding to terrifying hallucinations that a...
Read Full Post »
| | |
| --- | --- |
| Posted by mhedwig on August 6, 2017 at 8:00 PM | |
ANYTHING IS POSSIBLE is brilliant, but it is not a novel, though some reviews and ads have represented it as such. It is, in fact,  interconnected short stories or novellas, most centering on the same small Illinois town and its inhabitants (with one far-fetched digression into the story of a tangential character, Annie Appleby). Each story is discrete, each with its own arc and its own  resolution. There is no through-line of plot; only the character of Lucy Barton, former outcast ...
Read Full Post »